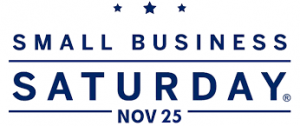 How to Market for Small Business Saturday
Small Business Saturday is bigger than ever—and despite what you may think, it's not just for retailers or even just for brick-and-mortar businesses. Here's what you need to know and how to take advantage of small business's big day.
Held on the Saturday after Thanksgiving each year and spearheaded by American Express, Small Business Saturday launched in 2010 as a day to support small, local businesses nationwide.
Who can benefit from Small Business Saturday? Physical retail stores, obviously, but also:
Restaurants/bars
Fitness studios
Salons/spas
Home services businesses (maid services, landscaping, handyman, etc.)
Automotive services
E-commerce businesses
Photography studios
Caterers
Educational services (tutoring, extracurricular classes, etc.)
Professional services (accountants, tax preparation, financial advisor, etc.)
With a little creativity, almost every type of independent business can tie into Small Business Saturday and take advantage of the many marketing opportunities it offers. Since its launch, Small Business Saturday has become more popular every year. Last year, 112 million consumers spent an estimated $15.4 billion at independent businesses on Small Business Saturday. Awareness of the movement is growing. Here's how you can be a part of it.
Find (or become) a Neighborhood Champion. This is a person or organization that takes charge of organizing support for Small Business Saturday, such as planning events or promotions to spread the word to businesses and consumers. If your community was part of Small Business Saturday last year, you may already have a Neighborhood Champion. If not, see if your local business association, Chamber of Commerce or other community organization is interested—or take charge yourself. Learn more about Neighborhood Champions at http://amex.co/2yCjgcT
Find out what you're eligible for. Any independent business can get a wide range of free, customizable marketing materials at http://amex.co/2hxs7JW  for Small Business Saturday, such as flyers, posters and templates for email messages and social media posts. If you are a qualifying merchant accepting American Express cards, you're eligible for additional free benefits. For example, you can get listed on the Shop Small Map so local consumers can see at a glance that your business is participating in Small Business Saturday.
Don't wait. Any independent business can get a free Shop Small Kit from American Express with all the extras you need to help celebrate Small Business Saturday and thank your customers for participating. The kit includes tote bags, thank you cards, stickers, balloons and more goodies for your customers.  But don't delay: Kits are only available while supplies last, and November 10, 2017, is the last day to order.
Plan your promotions. It's not too early to get started letting consumers know that your business will be part of Small Business Saturday. After all, you want them to budget some of that Black Friday weekend spending money for you! Send out a marketing email to everyone on your email list to "save the date" and start posting and advertising on social media to spread the word. Remind prospects that money spent in the local community stays in the community.
Aside from retailers, here's how some of the other types of businesses mentioned above could promote Small Business Saturday:
Caterer: Let us handle your holiday parties!
Accountant: Get a head start on taxes! We can take the headaches off your hands.
Fitness studios: When it's time to make your New Year's Resolution happen, we can help. Sign up now and get 50% off your first month.
Education: Is your child falling behind in school? Get a head start on 2018: Sign up for tutoring services today.
For more ideas, check out Small Business Saturday® 101 at  http://amex.co/2zAwISo which features short how-to videos and articles to help you make the most of November 25.
Published in OhioMBE – Nov. 15, 2017 – pdf