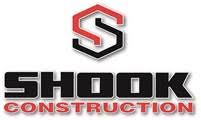 NOTICE TO BIDDERS
Shook Construction is requesting bids for the Collins Part WTP Ozone Treatment Facilities project in Toledo, OH.  MBEs, WBEs & SBEs are encouraged to respond.  Bids are requested by 10:00 AM on 06/26/18. Project is taxable and DB Prevailing Wage rates apply.
Scope items include: General Conditions, Demolition, Hauling, Excavation & Backfill, Sand & Gravel Supply, Dewatering, Excavation Support Systems, Erosion Control, Paving, Concrete Curbs/Gutters/Sidewalks, Site Utilities, Fences & Gates, Seeding & Sod, Concrete Repair, Ready Mix Supply, Concrete Formwork, Reinforcing Steel, Cast-In-Place Concrete, Precast Hollowcore Slabs, Masonry, Structural Steel, Miscellaneous Metals, Aluminum Handrails & Railings,  Grating, FRP Fabrications, Dampproofing, Waterproofing, Roofing, Firestopping, Caulking & Joint Sealants, Fiberglass Doors/Frames, Access Doors/Hatches, Overhead Coiling Doors, Aluminum Entrances/Storefronts, Hardware, Glass & Glazing, Acoustical Ceilings, Paint & Protective Coatings, Signage, Fire Extinguishers, Dock Bumpers, Aluminum Canopy System, Treatment Plant Equipment, Pumps, Ozone Systems, Instrumentation & Controls, Process Piping/Valvles/Gates, Pipe Supports, Mechanical Insulation, Fire Protection, Plumbing, HVAC & Electrical.
Interested subcontractors and suppliers can call our Estimating Department at 800-705-5251 or email us atestimating@shookconstruction.com for instructions on how to obtain bid documents.  Shook Construction is an Equal Opportunity Employer.