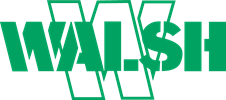 Walsh Construction encourages bids from all qualified subcontractors/suppliers including DBE/WBE/MBE firms for the – Collins Park WTP Ozone Treatment Facilities  until 12:00 PM EST, on Tuesday, July 10, 2018
DESCRIPTION OF PROJECT:
The Work to be performed under this contract generally consists of construction of new ozone treatment facilities at the existing City of Toledo Collins Park WTP as an advanced treatment for oxidation and removal of algal toxins encountered in the raw water pumped from the plant's Lake Erie intake.  The new ozone facilities will have a treatment capacity of 160 million gallons per day (mgd).
Note:
Bidding documents must be purchased from the City of Toledo, please contact Amy Betts at 419-245-1695. The price of the CD is fully refundable upon return. If you wish to review the documents you may make arrangements to come into our office.  Please contact Firas Joseph at 313-456-6528 or fjoseph@walshgroup.com.
Work scopes include: Erosion Control, Paving, Trucking, Fencing, Seeding and Landscaping, Concrete Repair, Reinforcing Steel, Precast Concrete Hollow-Core Planks, Masonry, Waterproofing, Roofing, Caulking, Overhead Doors, Windows, Glass and Storefront, Painting and Coatings, Instrumentation and Controls, Ozone and Oxygen System Cleaning, Plumbing, HVAC, Electrical, and Pipe Insulation.
If you have any questions regarding this project please contact Firas Joseph at 313-456-6528 or fjoseph@walshgroup.com
Walsh is an Equal Opportunity Employer, Minority/Female/Disabled/Veteran.