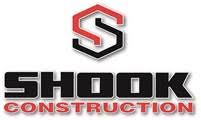 NOTICE TO BIDDERS
Shook Construction is requesting bids for the Collins Part WTP Solids Dewatering Facility Improvements, Phase 1 project in Toledo, OH.  MBEs, WBEs & SBEs are encouraged to respond.  Bids are requested by 10:00 AM on 07/31/18. Project is tax exempt and Davis-Bacon prevailing wage rates apply.
Scope items include: General Conditions, Demolition, Sand & Gravel Supply, Ready Mix Supply, Concrete Formwork, Reinforcing Steel, Cast-In-Place Concrete, Concrete Rehabilitation, Masonry, Glass Unit Masonry, Metal Fabrications, Crystalline Concrete Coatings, Single Ply Roofing, Joint Sealants, FRP Doors/Frames, Hardware, Glass & Glazing, Acoustical Ceilings, Paint & Protective Coatings, Treatment Plant Equipment, Pumps, Process Piping/Valves, Pipe Supports, Plumbing, HVAC,  Electrical and Instrumentation & Controls.
Interested subcontractors and suppliers can download the bid documents directly from our online planroom at www.shookconstruction.com/plan-room/.
Questions and/or quotes should be sent directly to estimating@shookconstruction.com.
Shook Construction is an Equal Opportunity Employer.