Community Action Meetings Feature Honest, Open Exchanges Between Democratic Candidates And African-American Community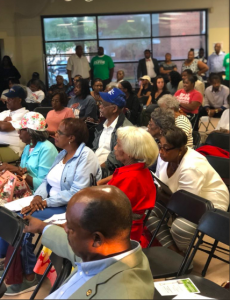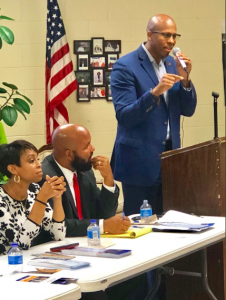 The Ohio Democratic Party has been holding Community Action Meetings around Ohio featuring 2018 Democratic candidates and providing an opportunity for honest, open exchanges with members of the African-American community.
"I think it's important to have candidates engaging with the community because people want to know who they're voting for, and one of the best ways to accomplish that goal is to put the candidate directly in front of the voter," said Jewell Porter, a lead organizer with the Democratic Party for these events.
So far, the Democratic Party's new Minority Engagement Program has held Community Action Meetings in Columbus, Dayton, Toledo, Cincinnati, Akron, and one in Cleveland with another planned for this week.
At these meetings, excitement has been building, with anywhere between 75 to 120 people attending evening meetings during the middle of the work week.
These Community Action Meetings have featured Democratic candidates discussing why they're running for office, what the office does, and how it impacts folks' daily lives.
"I think informing people about what offices actually do is critically important because so many people think that what happens in our government is removed from their daily lives," Porter said. "I think it's important to make sure that voters know exactly why it does matter who the next secretary of state or treasurer or attorney general actually is."
Porter said that candidates who've attended these events include Lt. Gov. candidate Betty Sutton, Secretary of State nominee Kathleen Clyde, state Treasurer nominee Rob Richardson, state Auditor nominee Zack Space, and the two candidates for Ohio Supreme Court, Judges Melody Stewart and Michael P. Donnelly, and dozens of statewide candidates.
"Making these connections is at the core of what we're trying to do this year as Democrats," said Richardson. "My campaign is all about holding the powerful accountable and prioritizing opportunities for working people. Connecting with folks where they are to share our message and gather feedback is making us all stronger."
Too many Ohioans feel like the system is rigged against them and that their voice doesn't matter and that's what this election is about, Clyde said.
"Ohioans want a change, someone who will support minority-owned businesses, bring fairness back to our districts and fight against continued attacks on our fundamental right to vote, because every eligible voter deserves to have their voice heard and their vote counted," she said.
Space said he is grateful for the Ohio Democratic Party's Minority Engagement Plan and its dynamic outreach.
"Candidates have been able to connect with minority communities more than ever before to truly understand the systemic injustices these communities face, and to build relationships that will help us find solutions when in office," he said.
Latyna Humphrey of the Central Ohio Young Black Democrats said that she thought the Community Action Meeting she attended in Columbus was very insightful.
"We talked a lot about what we could do to help communities of color. A lot of the community got insight about what each candidate does career wise and how it affects their everyday lives and they also got a chance to hear about candidates personal lives," Humphrey said. "I think we need more of those meetings they're necessary. We need to push/ and promote more. Although there were a substantial amount of ppl in the room. There's always room for more."
After the meetings, people have been signing up to volunteer with the Campaign for Ohio or getting more involved with the community engagement consultant working in their area, Porter said. The effort has intentionally targeted people who don't typically attend events like this because they want to engage an audience of voters that have felt neglected in past years.
"One of my favorite things has been the feedback we've gotten from the candidates," Porter said. "They told me that they often recognize when the people in the room are the same people who always come out to events, but these events are different — there are new people who they get to connect with and earn their vote."
She said all of this has allowed them to strengthen the connective tissue between black Democrats and the Democratic Party, and increase buy-in between community stakeholders,
The effort is all about inclusion, and opportunity, and community for everybody, she said.
"When people are heard and engaged, they are empowered," Porter said. "We want everyone to feel empowered this year because we truly do have the power to lift up each other and make a historic difference together."